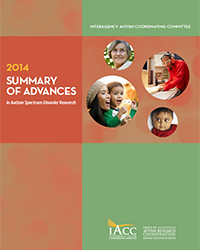 Summary of Advances
In Autism Spectrum Disorder Research
2014
Download Full PDF (4 MB)

Articles Selected for the 2014 Summary of Advances
1) Approaches to enhancing the early detection of autism spectrum disorders: a systematic review of the literature. 2) Validation of the Modified Checklist for Autism in Toddlers, Revised with Follow-up (M-CHAT-R/F). 3) Synaptic, transcriptional and chromatin genes disrupted in autism. All articles.
Question 1: When Should I Be Concerned?
Approaches to enhancing the early detection of autism spectrum disorders: a systematic review of the literature: Although ASD can be reliably diagnosed in children at about 2 years of age, on average, children in the U.S. are not diagnosed until they are 4 to 5 years old. Early diagnosis allows for early intervention, which improves outcomes, including quality of life. Read more.
Question 2: How Can I Understand What Is Happening?
Synaptic, transcriptional and chromatin genes disrupted in autism: Hundreds of genes are affected by genetic mutations associated with ASD. In this study, the researchers were interested in identifying and analyzing genes with either inherited or spontaneous (de novo) mutations that reduced or eliminated the gene' s normal function, known as loss of function (LoF) mutations. Read more.
Question 3: What Caused This to Happen and Can It Be Prevented?
Most genetic risk for autism resides with common variation: Genetic risk for autism comes from alterations to genes that may be inherited or that may occur spontaneously during fetal development. Many past genetic studies of ASD have focused on the possible roles of rarely occurring inherited mutations and spontaneous genetic mutations. Read more.
Question 4: Which Treatments and Interventions Will Help?
Caregiver-mediated intervention for low-resourced preschoolers with autism: an RCT: Families at the lower end of the socioeconomic scale with children with ASD are not often recruited to participate in ASD research, including research on early interventions for children with ASD. Over the past 10 years, ASD Early Intervention (EI) researchers have come to understand a great deal more about how such interventions can have real and positive effects on children with ASD, including by improving key behaviors, language, and social communication skills. Read more.
Question 5: Where Can I Turn for Services?
Costs of autism spectrum disorders in the United Kingdom and the United States: Most previous estimates on ASD's economic costs to society were narrow (focusing largely on health care) and based on data that have since been updated and refined. This study expanded cost estimates to areas other than health care, estimated lifetime costs, and provided comprehensive costs associated with ASD in the United States and the United Kingdom. Read more.
Question 6: What Does the Future Hold, Particularly for Adults?
A longitudinal examination of 10-year change in vocational and educational activities for adults with autism spectrum disorders: Relative to youth with other disabilities, when many young adults with ASD leave high school, they often receive fewer services and are less engaged in education and employment. However, it is not known whether these youth are experiencing a temporary or long-term setback. Read more.
Question 7: What Other Infrastructure and Surveillance Needs Must Be Met?
Prevalence of autism spectrum disorder among children aged 8 years—autism and developmental disabilities monitoring network, 11 sites, United States, 2010: The Autism and Developmental Disabilities Monitoring Network (ADDM Network) estimates ASD prevalence in the United States (U.S.). It does this by systematically gathering and analyzing data, including ASD diagnoses, among children 8 years of age whose parents or guardians live in ADDM Network sites in the U.S.Read more.
Back to Top